Jun 2, 2011 Author: bluegreen butterfly | Filed under:
destinations
,
hotels / flights
,
Travels and destination
The weather these days were not good and typhoon Chedang was on her way to Philippines but still me, my two sisters and niece went to Cebu City for my interview and in the same time to have fun and make some bonding with each other. It's was our first time to visit the place. It took us 40 minutes by plane before we reached Cebu City. The very first day we came after checking-in in a certain hotel in Cebu City, we went out to visit Taoist Temple on top of the mountain and the very next day I prepared myself for my interview and after we visited Basilica del Santo Nino-the oldest church in Cebu. It was short and tiring but enjoyable trip. We did enjoy it. We found Cebu City a very nice and beautiful place. And thanks God, I passed the interview and typhoon Chedang turned her way to other country. We went home very safe and successful. God was and is always at control and took care of everything.
At work, majority of our hotel guests are tourists from different countries. Usually Tourists traveled miles just to make a tour to witness the beauty of the country and its people. Some of our guests were too confident making tours of their own without any tour guides. I just wondered how they made it to drive and find the place wherein they were not familiar with and were able to come back to the Hotel? I found out, they were using handheld gps. It is a satellite-based navigation system that navigates locations all around the world and provides time information in all weather. It helped them enjoy the adventure of travelling without getting lost.
Apr 27, 2011 Author: bluegreen butterfly | Filed under:
destinations
,
holidays
,
Travels and destination
It's summer time! This is the best time for us with my family to go out, to relax and have fun. We have been in "Enchanted River" in Surigao Del Sur which is known for its mysterious depth that gives deep sky blue color. We've been also in Emaars Wave pool in Davao City and Panas Falls in New Corella Composta Valley province. I am enjoying the summer. It was so hot these days but yesterday the weather changed to shady until it rained. What a cool summer. I went outside & played in the rain. I just miss being a kid.
Mar 18, 2009 Author: bluegreen butterfly | Filed under:
destinations
Machu Picchu in Peru is one of the highly valued archeological sites in the world. And it would be an awesome experience of a lifetime to see what it has treasured for thousands of years through our own eyes, the spectacular views of the "Lost City of the Incas" and other magnificent architecture of their time. I know some people who have been there on their trip and all they could say was that it was an amazing Machu Picchu travel experience, made easy and comfortable by Peru for less travel agency. I have dealt with international travel agencies myself and I like those honest and upfront, who don't have hidden or unreasonable charges especially to those who don't know. But Peru for less has guaranteed that theirs is the least price published, of course superior service and support 24/7. You may book now.
Dec 2, 2008 Author: bluegreen butterfly | Filed under:
destinations
I am a traveler at heart and have always wanted to travel to different new places hence I have this small travel blog as memoir of my experiences which I am so glad and proud. I have a list of places I want to see with my own eyes and step on my own two feet, and one of them is New Zealand. Why New Zealand? Because I have read several books featuring the country whose beauty is inviting me to visit, and I have seen so many wonderful photos and videos from Larry the Travel Guy's website enough to me make me want to experience the exotic beauty New Zealand offers in its paradise myself. Just now I discover that it can become a reality, to travel to New Zealand, and most of all, for free! A free trip to New Zealand paradise made possible by Air New Zealand and Larry the travel guy. They are giving away to round trip flight tickets from Los Angeles to Auckland, so we can be a full time travel blogger spending priceless experience in New Zealand with our loved one. I wish I would win this. Aside from winning the two round trip flights the winner will also be featured on Larry the Travel Guy.com.
Sep 8, 2008 Author: admin | Filed under:
destinations
,
reviews
Our second wedding anniversary is getting closer now; and we are set for a vacation. Where do you think is the best place to go? We want somewhere romantic, of course, and since it will be on our wedding anniversary, I want it so special, to be in a paradise. Do you know that there is a place called the Island of Love? That is where the romance and honeymoon happen, not just with our special someone but with nature too. It is Tahiti, in the famous Bora Bora and other exquisite islands of French Polynesia.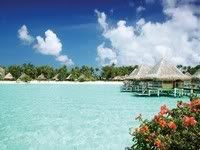 I have been looking for information about the easy way to Tahiti for a Bora Bora holidays and vacation in the islands. I know that in organizing vacations like this, it is always better to deal with local agents from the place. They can always provide support and accommodate our concerns because they have the local knowledge advantage and the best vacation deals. Bora Bora is a major tourism place in Tahiti and staying in Bora Bora hotel just in front of the beautiful lagoons and beaches cannot be more inviting for relaxation
and accommodation. We have flown with different airlines but now we can fly to the island paradise by Air Tahiti for cheap fares. Everything is exotic. The pristine white sand beaches, ecology, geological diversity and colorful history of Bora Bora and the whole island group of Tahiti are an attraction in themselves, and especially their black pearl farming. It will make a perfect wedding anniversary gift.
Tahiti is the largest island in the Windward group of French Polynesia, located in the archipelago of Society Islands in the southern Pacific Ocean. At 17° 32 S and 149° 34 W, Tahiti situated half way between California (6,200 km) and Australia (5,700 km).

Mar 19, 2008 Author: admin | Filed under:
destinations
,
Featured
,
holidays
,
reviews
I love nature. I love the beach. Though I am not the best swimmer, the beach always captivates me, maybe because of the freedom and wild feeling it gives those who indulge, and also because of it's wonderful beauty. Stopping over in Hawaii many times I came to know first hand some facts about its great tourism spots. One place I want to explore some day is the Na Pali Coast along the Hawaiian shores. It is the best for nature trek and beach adventures. Na Pali coast is a national state park that can be accessed by hiking, by chopper or by boating. Kauai boat tours by the Yacht Club O'ahu Channel sailing race winner Capt. Andy and his crew will sail us along the state park, the nature reserve, and to see geologic formations, volcanoes, and other natural features. They are always breathtakingly beautiful. You will not just witness the wonder of the works of nature which are diverse in this place, but always view wildlife and even Kauai whale watching. Isn't that a one of a kind experience? All of nature wild and free, the amazing cliffs, exceptional landscapes is always stress relieving, the place so lush and tropical. Some called it a must-see place; yeah we can call it paradise on its own. Sailing adventures or the daring raft expeditions, you can have it all with an online comprehensive coast guide to Na Pali.
Feb 22, 2008 Author: admin | Filed under:
destinations
,
Featured
,
holidays
,
reviews
Let's sail and travel about for pleasure, relaxation, or sightseeing! I love to travel and see many new places and culture and enjoy all the experience! Hubby and I have talked about it and one of the things we have planned is to take a vacation, on cruise to famous places as the Caribbean or Alaska aboard Canada Cruises or where the cruise line sails. We have been preparing for that. It will be a very rich experience, and can be expensive too. But we know better. Direct Line Cruises is a cruise-only travel agency that offers discount cruise rates for various cruise lines such as Carnival Cruise Line and Celebrity Cruises to great cruise destinations such as Alaska, Bermuda, Canada, Caribbean, Europe, Hawaii and more, with travel insurance at no extra cost as one of their promos!
Once in a while we deserve to be pampered; and this fleet of cruise ships, celebrity cruises and Carnival Cruises open all the fun and luxury in festive-yet-casual atmosphere while on board, providing some of the highest quality food, service and entertainment in the entire cruise industry, with activity options to suit almost any interest. Do you know that Celebrity Cruises ensures that there is at least one staff member onboard for every two guests, so when you have a need, there's always someone there to help you enjoy your vacation?
Feel like a celebrity in this unforgettable experience. That is why they are so popular in the world. No one helps us experience more incredible destinations than these direct line cruises. So wherever our destinations are, we can always enrich the experience with these top of the line cruise ships! Be pampered while you saved!